Inspire NM Student Conference 2021: March 31-May 6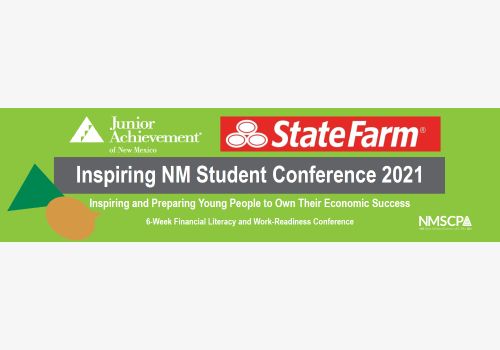 Event Completed!

When: Wednesday, March 31, 2021
Where: Via Google Meet
Time: 1:00 PM MST
Featured Speakers:

*State Auditor Brian S. Colón, NM State Auditor
*Adam Ciepiela, Charles Stephen
*Kathy Romero, Wells Fargo
*Ruben Reyes, NM Educational Assistance Foundation
*Liesl Schmidt, US Bank
*Georgie Ortiz, CLA
*Attorney General Hector Balderas, NM State Attorney General
*Seddrick Robinson, Fidelity Investements
*Yasmeen Abdeljalil, Axiom
*Sunny Shields, State Farm
*State Treasurer Tim Eichenberg, NM State Treasurer
*Amanda Lujan, City of ABQ

Click Register Here ! to register today or click Event Flier for more information on dates/times!

In Case You Missed It: To view available previous sessions, visit our YouTube Channel: Junior Achievement of NM!
Need More Information?