Inspire NM Student Conference 2021 Week 3: Liesl Schmidt & Georgie Ortiz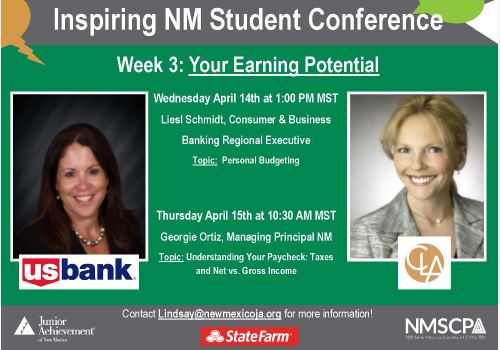 Your Earning Potential
Event Completed!

When: Wednesday, April 14, 2021
Where: Via Google Meet
Time: 1:00 PM MST
Wednesday 4/14 @ 1pm MST: U.S. Bank Consumer & Business Banking Regional Executive, Liesl Schmidt, will be sharing the importance of Personal Budgeting

Thursday 4/15 @ 10:30am MST: CliftonLarsonAllen, LLP Managing Principal NM, Georgie Ortiz, will be taking students on a breakdown tour of Paychecks: Taxes & Net vs. Gross Income
Need More Information?
For more information about this event, please
contact us!