JA Virtual Career Speaker Series NM -Ronda Cole Harmon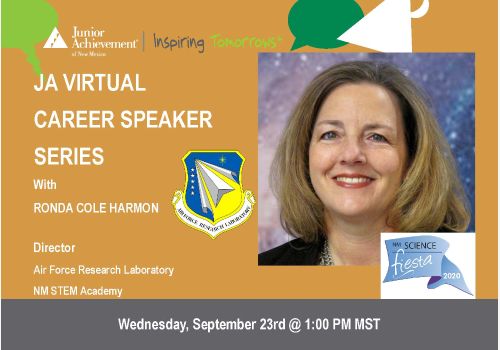 Director of the Air Force Research Laboratory NM STEM Academy
Event Completed!

When: Wednesday, September 23, 2020
Where: Via Google Meet
Time: 1:00 PM MST
Ronda Cole Harmon is the PI for a Partnership Intermediary Agreement between the Air Force Research Laboratory (AFRL) and New Mexico Institute of Mining and Technology (NM Tech). She oversees a program that impacts more than 9,000 students annually through hands-on minds-on science, technology, engineering, and mathematics (STEM) activities. Her ultimate goal is to create a larger, more diverse pool of applicants who will fill jobs that support the DoD ecosystem.
Need More Information?
For more information about this event, please
contact us!
"Junior Achievement reinforced concepts for me to remember later in life."
Junior Achievement Student
"I thought the experience was amazing. The presentation was unlike anything I've seen."
Junior Achievement Student
"Junior Achievement has given me a sense of what adults go through with budget issues."
Junior Achievement Student
"I liked how the Junior Achievement volunteer explained his job to us."
Junior Achievement Student