JA Virtual Career Speaker Series NM -Ronda Cole Harmon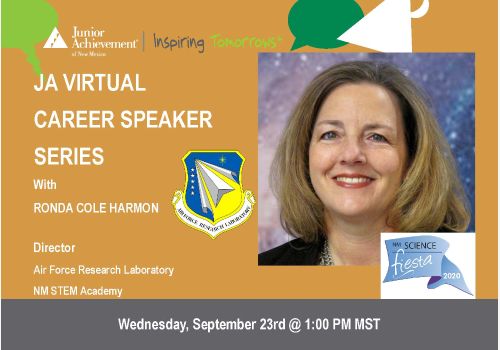 Director of the Air Force Research Laboratory NM STEM Academy
Event Completed!

When: Wednesday, September 23, 2020
Where: Via Google Meet
Time: 1:00 PM MST
Ronda Cole Harmon is the PI for a Partnership Intermediary Agreement between the Air Force Research Laboratory (AFRL) and New Mexico Institute of Mining and Technology (NM Tech). She oversees a program that impacts more than 9,000 students annually through hands-on minds-on science, technology, engineering, and mathematics (STEM) activities. Her ultimate goal is to create a larger, more diverse pool of applicants who will fill jobs that support the DoD ecosystem.
Need More Information?
For more information about this event, please
contact us!