JA Virtual Career Speaker Series NM -Todd Bisio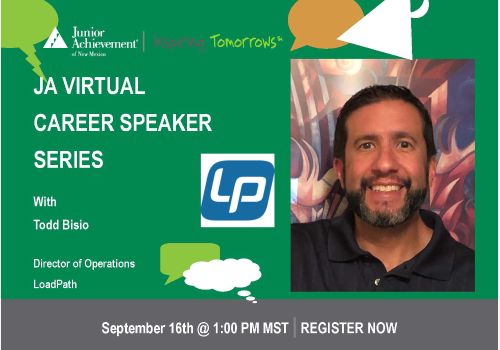 Event Completed!

When: Wednesday, September 16, 2020
Where: Via Google Meet
Time: 1:00 PM MST
Todd Bisio is an experienced business leader with a background in business operations, program management, contracting, budget planning and execution, government compliance, strategic planning, business acquisitions and corporate governance. He also has a strong passion for community and economic development across the region.
Need More Information?
For more information about this event, please
contact us!
"Junior Achievement reinforced concepts for me to remember later in life."
Junior Achievement Student
"I thought the experience was amazing. The presentation was unlike anything I've seen."
Junior Achievement Student
"Junior Achievement has given me a sense of what adults go through with budget issues."
Junior Achievement Student
"I liked how the Junior Achievement volunteer explained his job to us."
Junior Achievement Student