JA Virtual Career Speaker Series NM - Trish Lopez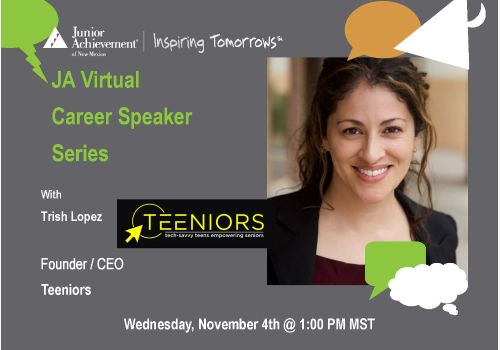 Event Completed!

When: Wednesday, November 04, 2020
Where: Via Google Meet
Time: 1:00 PM MST
November is National Entrepreneurship Month ! Our first speaker this month is Trish Lopez, Founder & CEO or Teeniors®-an organization whose goal is to empower older adults to connect with their loved ones, engage with their communities - and the world - through technology, while providing paid, part-time jobs for youth. What started out as a business idea pitched at the first ever Startup Weekend Women's Edition in New Mexico (2015), is now a multi-award winning organization that has personally tutored over 3,000 older adults in New Mexico alone and have provided paid, meaningful work to dozens of teens and young adults along this journey.
Need More Information?